Our History
San Juan Sports was established in 1974 by former owner, George Ameel. George ran the store on his own until he married Charlene Ameel. Together, George and Charlene developed their beloved store into one of Creede's most popular shops. They dedicated their lives to providing a creative retail shop that stayed open 360 days a year while remaining family owned. In February 2011, George and Charlene sold San Juan Sports to Michael and Amy McNeil, who presently own the shop. Michael and Amy have continued San Juan Sports' traditions of being a well-loved store.
In April of 2011, San Juan Sports went under construction to remodel the look and layout of the store. The new rustic and eclectic shape that San Juan Sports took on makes for an enjoyable shopping experience. Bring your bumper stickers from your local areas and slap them on the door in the shoe room. If you have an old pair of boots that you need to get rid of, string them up outside on the San Juan Sports sign. If you haven't seen it yet, come check out the new look.
---
About the Owners: Michael & Amy McNeil
Michael and Amy met in college at Oklahoma Wesleyan University, in Bartlesville, OK. Michael played basketball and received a History degree and Amy played tennis and received a degree in nursing. Upon graduation, Amy returned to her hometown of Austin, TX to take a nursing job at a children's hospital. Meanwhile, Michael was finishing his last year of college. Upon his graduation, Michael decided not to return to his hometown of Edmond, OK and instead took a job in Austin, where Amy was. It was during this time when they decided that this was not the life for them. Because Amy's parents had a cabin in the nearby town of South Fork, Amy was very familiar with San Juan Sports and contacted former owners George and Charlene Ameel to inquire about the sale of the business. After a little of this and a little of that, one wedding and one purchase later, Michael and Amy closed on the business on Jan 31st 2011. They have found a home in Creede that suits their dream lifestyle and satisfies their cravings for outdoor adventure. Work hard for awhile, then play hard for the rest of the time. Michael and Amy truly enjoy their mountain town, and embrace the lifestyle with big hearts. Together, they plan to own San Juan Sports until they are ready to hand it down to their children (which are not here yet,) or a beloved family member! When Amy is not in the shop, she enjoys fly-fishing the many streams and ponds in the area, big peak hiking, skiing anything with snow, going out dancing, and attending the Creede Repertory Theatre. When leaving the San Juan Mountains, Amy's favorite spots include beautiful beaches, salt water fishing, and anywhere she can soak up the sun! She also enjoys Mission Trips and humanitarian projects. You will find Amy nursing at the Creede Clinic once a week in the summers! When Michael is not in the shop, he enjoys hiking and backpacking anywhere his feet will take him, running the local trails, skiing Colorado's best powder, and then doing it all over again. When Michael is not in the mountains his preference is to be in the tropics, enjoying the cultures, with a local brew in hand! Both, Michael and Amy are passionate about traveling. They believe in the importance of enjoying life by living the life they love. Come meet them at San Juan Sports. If they aren't there, chances are they are skiing, hiking, or traveling.
---

Dana Goss 

Dana was born and raised in Creede. She has been employed at San Juan Sports for 29 years. In the summer you will find here taking long walks or hiking the side of a mountain. She also enjoys attending the Creede Repertory Theatre as well as perusing the local shops and galleries. In winter she is passionate about snowshoeing and loves reading a good book by the fire with a cup of tea. Weekends usually find her hanging out at home with her husband, two teenage sons, and Oreo, the cat.
 
Regan Hathorn 

Regan grew up in South Fork, Colorado, a town near Creede. She attended Colorado State University, where she received a Bachelors of Arts in History with minors in Business Administration and Spanish. She loves hiking, camping, being in the mountains, and taking photographs of wildflowers and wildlife. In Regan's spare time you will find her reading anything she can get her hands on and baking cookies for friends and family. As a member of Operation Baking Gals she sends boxes and boxes of homemade cookies to soldiers in Iraq and Afghanistan. Ask her about the local history, as well as the history of the San Luis Valley.
 
James Heit 

James moved to Colorado in 2010 from Central Kansas. He attended Fort Hays State University where he earned a Bachelors of Science in Mathematics and Computer Science. James is the year-round manager and IT of San Juan Sports. He enjoys hiking, Stand-Up Paddle boarding, biking, and snowboarding around South Fork and Creede. In his free time James loves to read, is a human & animal rights activist, and enjoys playing music. You will see him around town sipping a soy latte with his wife or walking with one of his four dogs. James is Bear's official "uncle".

Bear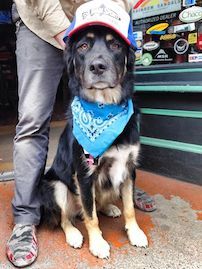 Bear is the official companion of San Juan Sports. Any given day he can be found blocking the door to the store or out on a long adventure with Michael or Amy. Bear is a rescue mix, but is mainly Alaskan Malamute & German Shepard. He will never turn down a treat or a belly rub. Before you go out... come in and see Bear.
---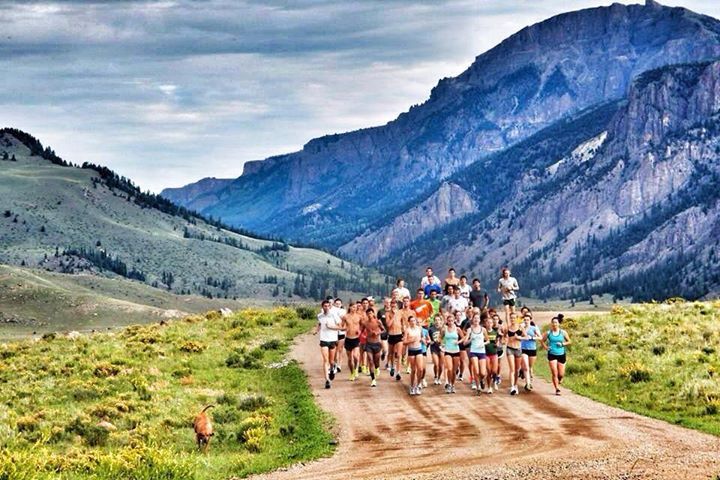 The Area
San Juan Sports is located in the San Juan Mountain range of southwestern Colorado, in the historic town of Creede. The San Juans are known for old mining towns, high peaks, and abundant fishing waters. The range is home to fourteen of Colorado's 54 14,000 foot mountains. Creede was established as a mining town in 1892, where mining explorations continue today. During the summer, Creede is a bustling tourist destination, attracting outdoor enthusiasts, patrons of the arts and people who want to enjoy beautiful scenery, unique shopping, fun restaurants, and great weather. The Creede Repertory Theatre offers live plays with actors from across the country, to entertain Creede's locals and visitors alike. In fall, Creede offers top-notch hunting and stunning fall foliage. Wintertime brings white, snow-capped mountains and endless blue skies. The area provides cross-country and backcountry skiing, snowshoeing, snowmobiling and ice fishing. Wolf Creek Ski Area is a short 37-mile drive, and claims "the most snow in Colorado," where it dumps over 465 inches of snow annually. In Late Spring, the rivers and streams fill up rapidly from the snowmelt off of the San Juan Mountains.